CMCE Virtual Showcase 10 May 2022, write up by Past Master Denise Fellows
We are coming out of two years of pandemic lockdowns into a 'New Normal' with unprecedented disruption and challenges which will significantly change the way we work. James Davies, an employment lawyer, published the The Eight Drivers of Change a report into the future of work in Autumn 2021. During his talk, he updated the data and concepts initially included in the publication to reflect the changes that took place since then, including the impact of war in the Ukraine, inflation, cost-of-living and the subsequent pressure on pay.
Covid-19 is a new phenomenon which may have sideswiped most, however its drivers: identified as Demographics, Globalisation, the Role of the State, Migration, and Social trends have been underlying factors in shaping the future of work, and the impact of technology and (environmental) sustainability has continued to accelerate change. © Lewis Silkin (2021)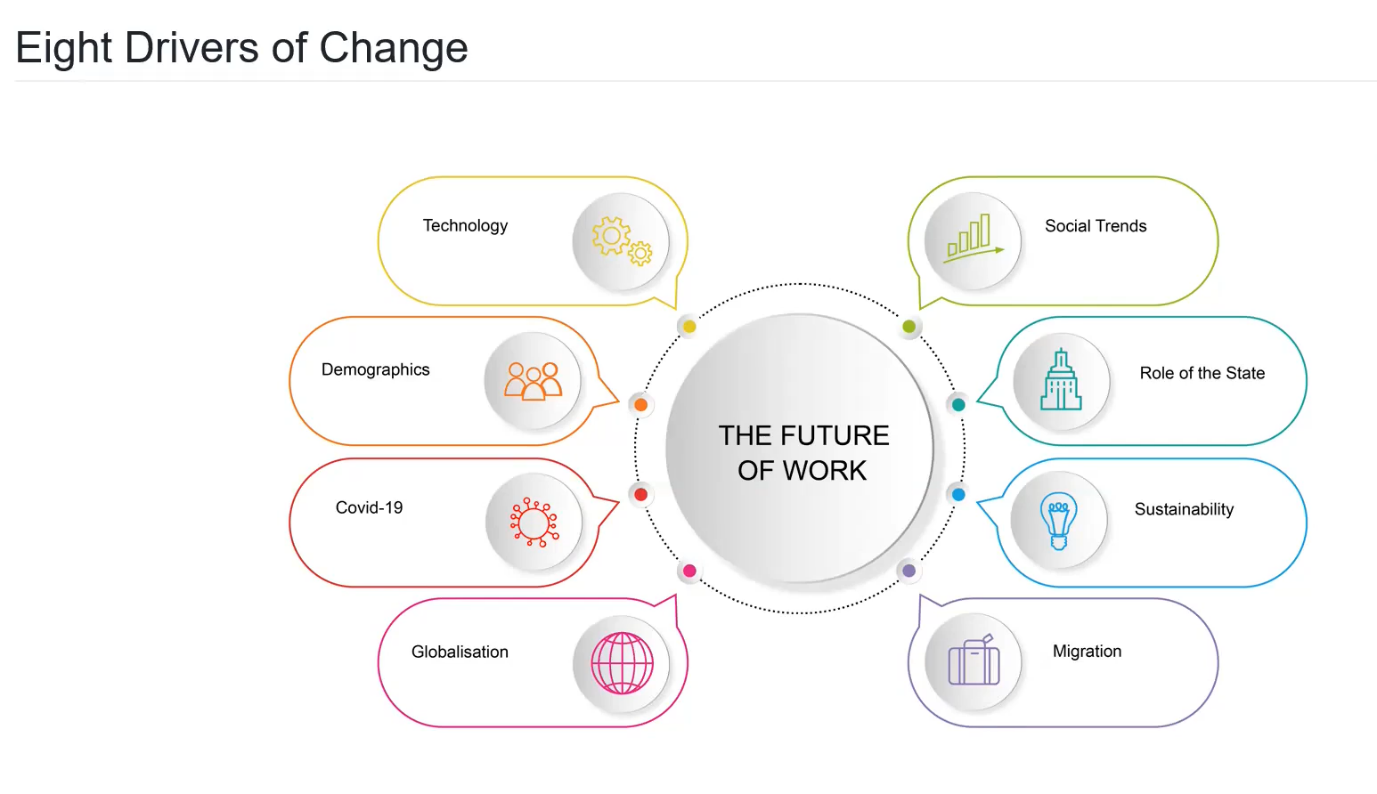 Building on from the eight drivers, James explored eight 'Emerging Themes' and eight 'Predictions for the Future'. The emerging themes included: changing labour market, flexibility and agency, resilience, inequality and division, diversity and discrimination, and innovation. James mainly focused on the labour market and the skills shortage resulting from Brexit and the pandemic lockdowns, but emphasised that much has changed in the last six months with massive rises in commodities and energy, and a potential trade war with the EU. Employment law and regulation is not keeping up with atypical and agency working. Many professionals are now demanding greater flexibility when it comes to their working arrangements; for example, they want the option of working from home or hybrid working and employers need to change to retain their talent. What people need is a sense of belonging and employers are repurposing their offices to foster collegiality and sense of team. Society is becoming increasingly diverse and, as a result, there is a growing tension as organisations are increasingly fixing their values where employees want organisations to reflect their own values.
In the third part of his talk, James spoke about the predictions for the future. People are living longer, healthy lives and combined with the decreasing workforce we may see more people working into their 70s. James had predicted that people will work fewer hours in the future, but with the cost-of-living crisis, he felt there may be an increase in working hours in the short term. He predicted that the direction of travel was to have more legal rights to control one's environmental footprint at work. At a macro-level, review of employment status was needed with varied flexible models of working, although he felt that this might await a change of government (the Employment bill having been dropped from the recent Queen's speech). This was tied into a prediction of potential move to the left in politics and more controversially a prediction that the UK would, within a generation, re-join the Single Market. Supporting that view is Macron's recent announcement of the possibility of a two-tier Europe.
James concluded by talking about the world of work 35 years ago, the days of telexes and faxes before the dawn of the internet. In 35 years' the workplace may be as different and fanciful as our view of today's workplace would have been then.
James Davies is an employment lawyer and founding partner of Lewis Silkin. His report "Eight Drivers of Change" is published online by Future of Work Hub can be downloaded here .
Other Reading:
Eastwood, O (2021) Belonging: The Ancient Code of Togetherness
You can also watch the recording of the event here
Date
Monday 23rd May 2022